Dez pictured with Mary Berry
Dez has also been the MC of The Aylesbury Business Excellence Awards for over six years presenting this Annual prestigious event with the likes of Roger Black the Olympic Athlete,Steve Davis from the world of Snooker,Bobby Davro,Steve Nallon Cannon and Ball, all from the Entertainment spotlight and more recently Phil Tufnell "The Cat" ex England cricketer.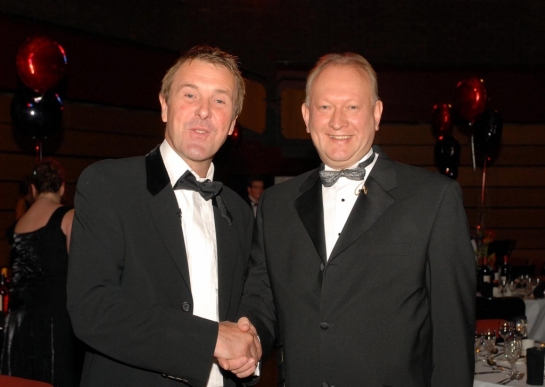 Phil Tuffnell
Dez has also hosted the Hemel Hempstead Business Excellence Awards with the Comedian Tom O'Connor and worked with the late Comedian Mike Reid.
Between 2002 and 2010, Dez has been on tour in Theatres across the UK as Host and Compere with the hit show Elvis An American Trilogy.
2010 saw Dez picked as the host for the very first Military Tattoo in Aylesbury Town Centre as well as the first ever AVDC Star Awards held at The Civic Centre.
He will also take to the stage at the new Aylesbury Waterside Theatre in June 2011 to host the AVDC Star Awards once again.
Dez is also the voice for the show "Explosive Unsigned" which airs on Showcase TV on Sky 201 & Freesat 403 and the voice for the new video for Franchise Detective.
Please take a listen via the link below.
In 2012 Dez filmed for Hong Kongs top soap opera "Triumph in the Skies" Series 2 whilst the unit were filming in the UK,which will be shown in late 2013.
He has also just appeared in a short film "Generation of Vipers"which starred Jessica Hynes which should be completed in August 2013.
June 2013 he co hosted the Mad about Waddeson Festival appearing on both the Main Stage and the Bandstage Stage.
2013 saw Dez Compere the hugely popular Hobble On The Cobbles with Headliners The Searchers,and in 2014 he returned with Headline Act. Toploader.
2015-2018 Dez is the regular compere for Aylesbury Town Council's huge outdoor event Live in the Park,which has audiences in excess of 10,000
2013 - 2018 Milton Keynes Parks & Trusts have continually picked Dez to Compere their growing Family Event Picnic in the Park.
Voice over http://www.youtube.com/watch?v=5Y1xttKbUXY
From an early age he was spellbound by the magic of the stage and the atmosphere that performances can create and he loves the theatre and in particular musicals, and only wishes that he could sing.
Dez comments, I guess that's why i'm a presenter !!!
If you would like to book Dez to host your event then please complete your details using the form on the Contact page.